Performed at the ICA recently, and again this Sunday we'll be in Gunnersbury park, playing sitar and
hoover
. Last year was a total loo flush from the gods, I hope it stays dry this time!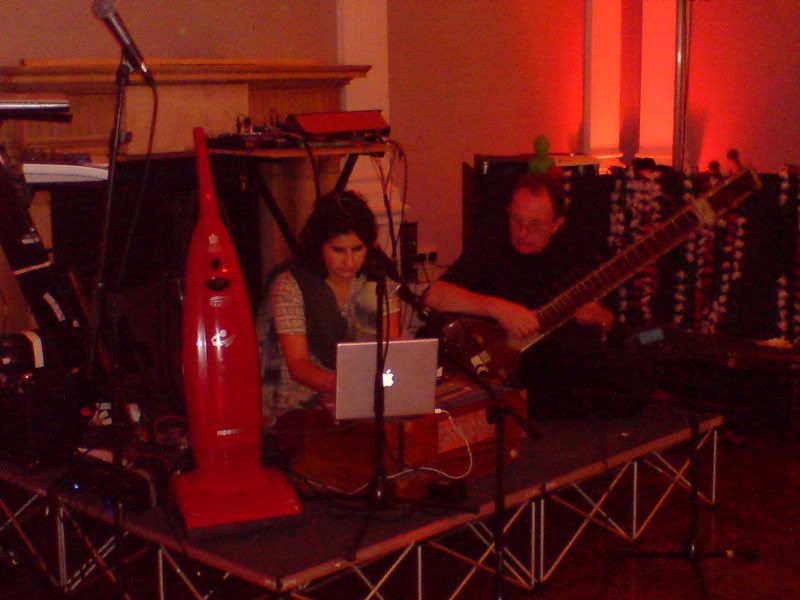 =
Also we featured on
Robert Elm's
daytime show today, up for listen again for the week. He dug out some crazy sitar version of "You Make Me Feel Brand New" for the occasion and his little son was hopping about in excitement at the musical hoover, he was so excited he wanted to carry it for me!
At the
MELA
Later at Bestival in September with BBC Asian network.
We are missing Bogota, a fabulous city, great to visit. We recommend: Villa de Leyva and Pipa just outside the capital, plentiful with hot springs and healthy corners...To see more of this mountain-heaven montage location watch
The Sword and the Rose
which has just been filmed there: I'm sure it will be everything suggested it would be on Ugly Betty, in the story within the story device on the family television.
Elms says he went to Columbia for his six week honeymoon. We only had ten days, but went from radio station to station and mountain jacuzzi pool to mountain-top church. It was a culinary adventure: from wrapped saffron rice in banana leaves to foreign fruits and their accompanying juices - fruits you've not even dreamed of... Ah, I miss the fruit juice and milk cocktails... who needs wine when there is LULO?!